Pottawattamie County Housing Trust Fund, Inc.
Use la pestaña en la parte superior de la extrema derecha para traducir a hispano.
Pottawattamie County Housing Trust Fund Inc. (formerly the Council Bluffs Housing Trust Fund, Inc.)  is a tax exempt organization located in Council Bluffs, Iowa.  Donations to PottCoHTF are tax deductible.  
The Council Bluffs Housing Trust Fund, Inc., expanded its service area to include all of Pottawattamie County effective with the 2020 grant cycle.  The name was changed to Pottawattamie County Housing Trust Fund, Inc., in August 2019 to reflect the service area expansion. Funds are allocated annually to organizations or individuals that serve the housing needs of low to moderate income residents within Pottawattamie County, Iowa.
Since our first year, 2011, PottCoHTF has funded more than $1.5 million in grants, with projects including both rehabilitation, and expansion of housing units available.  All projects funded by PottCoHTF benefit households making less than 80% of the Median Family Income for the area.  The majority of households benefitted over the last 9 years have benefited households making less than 50% of the Median Family Income, with more than 30% benefiting households making less than 30% of the Median Family Income.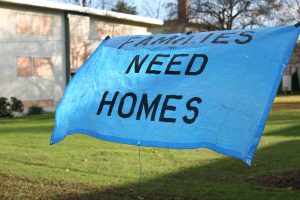 REQUEST FOR PROPOSALS
The Pottawattamie County Housing Trust Fund (PottCoHTF) accepts proposals at the very beginning of the year for activities that are eligible for assistance under the State Housing Trust Fund Program.
Applications are due February 10, 2023 at

1:00 pm

(CST)).
To be considered for funding, proposals must meet one of the following objectives:
Rental housing, including rehabilitation, new construction, emergency housing, transitional housing and permanent supportive housing
Home-ownership assistance, including direct assistance, rehabilitation and new construction
Education of potential renters and owners, including general maintenance information
Priority will be given to those proposals assisting households at or below 30% of the median family income. All activities must benefit households at or below 80% of median family income.  Each successful applicant will be required to meet with the PottCoHTF Board to review the application form and determine whether the project is eligible under the Housing Trust Fund Program requirements.
For further information and a copy of the application, please contact:
Grant Anderson -Metropolitan Area Planning Agency
2222 Cuming Street  Omaha, NE  68102
402-444-6866 ext. 3222
ganderson@mapacog.org